The Fake Meat Startups Disrupting The Global Meat Industry
Whether it's health concerns associated with eating meat or the environmental impact of animal agriculture, more and more Americans are choosing to reduce meat consumption and seek out meat alternatives instead.
In fact, a recent Nielsen Homescan survey found that 39% of Americans are actively trying to eat more plant-based foods. This shift in consumer preferences is bolstering the global meat substitute market, potentially pushing profits of textured vegetable protein, tofu, tempeh, seitan, and other plant-based sources to $7.5B by 2025.
With attention to and investments into meat alternatives at an all-time high, and a billion-dollar industry taking shape, it's worth considering the following: which startups will define the future of protein? Where do meat industry incumbents fit into the mix? And how will consumers react to a world where their meat is engineered in a lab or made out of plants? Let's take a look.
Bad News For Big Beef
For years, scientists have linked red meat consumption to a range of health problems, including high cholesterol, heart disease, and colon cancer. While this point is hotly contested, the renewed argument in favor of reducing meat consumption is centered on solving one of the world's largest environmental problems — industrial meat production.
Consider this fact: Americans eat an estimated 10 billion hamburgers a year. That number says nothing of the global demand for meat. As the world's population continues to grow, reaching an estimated 10 billion people by 2050, meat consumption will grow right along with it.
Because we're already using one-third of the land on Earth to raise livestock and their food, and assuming beef production will remain the number one agricultural source of greenhouse gases worldwide, scaling meat production to match demand simply isn't sustainable.
Plant-Based Disruptors
Veganism isn't a new concept. A quick search will return biblical quotes used to justify an animal-free lifestyle. But whether or not you buy into ancient anecdotes for alleviating animal suffering is beside the point. What's more notable is that today's meat-free disruptors aren't interested in taking an ideological stance on eating or avoiding animal products.
Instead, companies like Impossible Foods and Beyond Meat have reframed the conversation to attract Silicon Valley's starry-eyed investors who fund big dreams and billion-dollar ideas. In this case, disrupting the trillion-dollar animal meat industry while also saving the planet has proven to be a more compelling pitch than animal activism. In that way, the phrase, marketing term, and burgeoning "plant-based" industry is replacing veganism as a less polarizing, truly disruptive force remaking the future of food.
According to Pat Brown, CEO and founder of Impossible Foods, the livestock industry is headed for extinction. In an interview with the Pacific Standard, Brown said the industry is "intrinsically fragile" because small margins and long planning cycles make for unsustainable economics. By his estimation, the industry will disappear within several decades.
While it's easy to chalk Brown's statement up to hyperbolic startup hype, there's a convincing sign that he may be onto something. From Tyson to Cargill and Perdue Farms to Hormel Foods, traditional meat companies, having identified the need for a more sustainable protein strategy, are investing in a meat-free future.
As Tom Hayes, president and CEO of Tyson Foods, explains, the company is investing in protein alternatives because, in his words, "we want to actively disrupt ourselves". "We don't want to be Kodak", says Hayes. And Tyson isn't the only traditional meat processor seeking to disrupt themselves.
The Upstarts
At present, consumers still overwhelmingly prefer animal protein. By some estimates, 30% of all calories consumed by humans around the globe come from meat products, including beef, chicken, and pork. Still, meat substitutes are on the verge of creating a global market disruption.
Looking more closely at the startups in the space, you'll see companies falling into two categories: 1.) manufacturing meat alternatives from plant-based products or 2.) using technology to engineer "clean meat" in labs (cell-based meats are not yet available for consumers). Here's the rundown on the companies redefining "meat".
Beyond Meat
Founded by CEO Ethan Brown in 2009, Beyond Meat has raised $122M in funding from Kleiner Perkins, Obvious Corporation, Bill Gates, Biz Stone, The Humane Society, and Tyson Foods. After initially rolling out a chicken-free chicken product in 2013, it was the 2014 launch of the Beyond Burger, made from pea-protein, that put the company on the map.
Recently, the company reported net revenue of $56.4M for the nine months ending September 29, 2018, and subsequently filed for an initial public offering of $100M — hoping to become the first plant-based protein startup in the industry to go public.
Impossible Foods
Stanford biochemistry professor Patrick O. Brown started Impossible Foods in 2011 with an ambitious goal: to create an animal-free food system by 2035. The company's core product is a meatless, "bleeding" burger made from a blend of wheat, coconut oil, and potato protein, as well as their secret ingredient heme — an organic molecule found in the protein leghemoglobin. To date, Impossible Foods has raised $387M from investors, including Google Ventures, Khosla Ventures, Horizons Ventures, Temasek Holdings, Sailing Capital, and Bill Gates.
While Impossible Burgers are available at some 5,000 restaurants, the company recently announced their plant-based burgers will be sold at retail stores in 2019.
JUST
Although they've been mired in controversy, the company formerly known as Hampton Creek has made huge strides in 2018. Known for its plant-based egg substitute and egg-free mayonnaise, JUST is also developing a cell-based chicken product, possibly a chicken nugget. Though it won't immediately be ready for the mass market, they're hoping to make the first commercial sale of cultured meat. With more than $220M in funding and a valuation north of $1B, JUST still has their work cut out for them as they try to win over the FDA and USDA first.
Memphis Meats
San Francisco-based Memphis Meats is in the business of producing meat from pieces of lab-grown animal cells instead of living animals. In doing so, they've created chicken strips and meatballs that are indeed animal-based but don't require breeding, raising, and slaughtering of a massive number of animals. To date, they have raised $22M from Draper Fisher Jurvetson, Bill Gates, Richard Branson, and Tyson Foods.
Admittedly, the company is years away from reaching mass-market scale. The reason? Price. It costs Memphis Meats $1,000 to produce one cultured meatball. It's a huge improvement from the $300,000 production cost of the first cultured burger patty created in 2013. However, the current thinking says it's only a matter of time until lab-grown meat goes mainstream.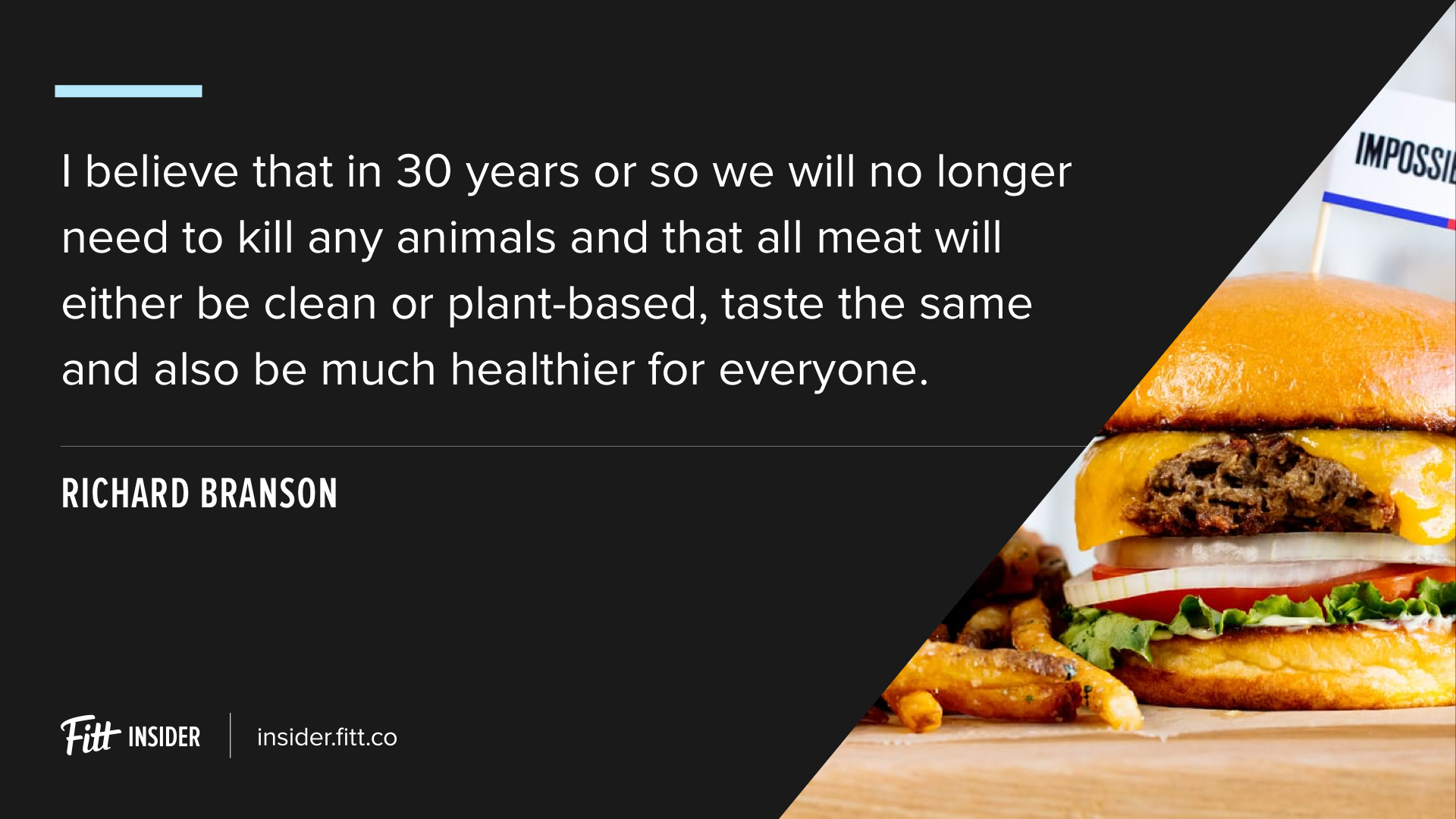 More Cultured Meat
In the world of meat-free meat, especially that of the lab-grown variety, innovation and competition are ramping up. Whether it's with the goal of saving the planet or capturing a piece of what promises to be a billion-dollar opportunity, meat substitutes are taking new forms. Here's the rundown on up-and-coming companies to know:
In 2013, Dr. Mark Post, the co-founder and chief scientific officer of Mosa Meat, produced the first-ever lab-grown beef burger (the one that cost $300,000). Now, with $8.8M in series A funding, this Dutch startup hopes to make $10 burgers available at restaurants and specialty stores by 2021. Creating this slaughter-free future hinges on the company's ability to scale up its 25,000-liter bioreactor, where livestock or poultry cells grow into tissue that can be made into a burger or a piece of chicken. Scaling this process and technology is the key to reducing cost and bringing their cultured meat to the consumer market.
With a $2.2M investment from Tyson Ventures, the venture capital arm of Tyson Foods, the Israel-based startup Future Meat Technologies is trying to cut the cost of cellular agriculture. Although, they're currently running up against some of the same issues as Mosa Meats — the cost. At about $363 a pound, the price is still far too high to be sustainable, Future Meat Technologies hopes to lower the price to $2.30 to $4.50 a pound by 2020.
Then there's New Age Meats, the startup behind the first lab-grown pork sausage. With $250,000 in seed funding from IndieBio, the accelerator that also backed Memphis Meat, New Age Meats uses fat and muscle cells generated from a sample of a live pig to create its sausage. Like most companies in the cell-based space, the biggest hurdle ahead will be achieving cost-effectiveness as they work to make the product affordable.
A Sea of Possibilities
Although it might be a little slower to develop than its meat counterparts, there has been a flurry of activity in the plant-based and lab-grown seafood space. Seeing that an estimated 90% of the world's stocks are overfished, creating a sustainable form of seafood is becoming imperative. With 40% of protein consumed by humans coming from seafood and a 17% increase in production forecast by 2025, there's also a financial upside for companies who can create sustainable seafood alternatives.
Here are four startups creating a fish-free future.
Looking ahead
With hundreds of millions of dollars pouring into the cultured and plant-based future of meat, it can be easy to get caught up in the hype. While the environmental benefits of ridding the world of industrial meat production are undeniable, keep in mind that over 90% of the world eats meat. Since that's the case, it's unlikely that fake meat will replace the real stuff entirely. It's more likely that, as these meat alternatives get a handle on cost and scale, animal-free meat will become one part of the $200B market for meat. With billionaires like Bill Gates and Kimbal Musk seeing the food industry as the "New Internet", it feels like it's only a matter of time until meat alternatives are as commonplace as its animal-based counterpart.