Behind The Brand: Daily Harvest
Eating well can feel like an everyday struggle. Fad diets, superfoods, and supplements make it difficult to understand what's actually healthy. And the busyness of life puts convenience and healthy food choices at odds.
Daily Harvest is on a mission to change that.
Founded in 2015, Daily Harvest is a subscription-based DTC food brand offering frozen smoothies, grain bowls, soups, snacks, and more. To date, the company has raised over $43M from investors like Gwyneth Paltrow, Serena Williams, M13, Lightspeed Venture Partners, and others.
By building a strong brand and engaged following, Daily Harvest has amassed a loyal and growing customer base. Here's how they're doing it.
Value Proposition
At its core, Daily Harvest is built around the idea that healthy meals shouldn't be complicated. They can be simple. Even easy.
Although this sentiment is shared by companies across the food or meal delivery space, few have nailed the execution quite like Daily Harvest. They have succeeded in combining the promise of fresh and healthy with the convenience of frozen.
Every product that Daily Harvest offers is 100% plant-based and vegan, made from fruits, vegetables, and spices.
The products won't go bad quickly and only take minutes to prepare.
The DTC subscription model simplifies the process for customers and has helped the startup hone its supply chain.
Value proposition: Taking the guesswork and prep-time out of eating healthy by sending pre-packed food options straight to your door, Daily Harvest is making eating well more convenient and accessible.
Branding
The value proposition is certainly focused around healthy food and convenience, but in consumer-facing messaging, an added value reveals itself: self-improvement.
Like other brands in the health and wellness space, Daily Harvest's mission is all about you.
"Daily Harvest's mission is to take care of food, so food can take care of you. At its core, that means ensuring that what you consume is nourishing and helps you be your best."
Daily Harvest fulfills this mission by doubling down on simplicity, starting with the ingredients — fruits and vegetables are at the center of its products and its branding.
One look at the website makes this truth abundantly clear. For starters, the only color comes from the food itself. The logo, text, and design elements—like trendy iconography—are all black and white. The packaging is black and white. And the imagery is entirely neutral, with the exception of any food featured. These aesthetic choices make the colorful ingredients of every product pop in a meaningful way.
Subconsciously, this visual approach draws the viewer's focus directly on the value prop: simple, healthy ingredients. In fact, the ingredients dominate the site over the depictions of the end product you'll actually consume.
Any time you encounter a Daily Harvest smoothie on the brand's website, you'll see it first in ingredient form. The product photography features a clear cup (talk about transparency) filled with bright, appealing ingredients. Hover your cursor over any product, you'll get a glimpse of what the smoothie itself looks like. The sentiment shines through: the ingredients are far more important than the final product.
The site itself is designed to be extremely user-friendly. You can browse products in a traditional way, by category, but Daily Harvest has created a number of forward-thinking filters to sort its product by.
For example, love berries but hate avocados? Input your likes and dislikes and find the meals that work with your tastes. Maybe you follow a specific diet, like keto or paleo — you can search by that too. If you're more interested in the benefits you'll get from these meals, you can filter by benefit — making it easy to find meals that will energize you, boost your immunity, or serve as a great workout recovery.
The final ingredient to Daily Harvest's meticulously branded experience is the copy cues the brand uses to convey the taste of each product: they paint it in a way that sounds more like a reward than just another meal.
On every product page, you'll see a "tastes like" tag that sets consumers' expectations but mostly builds excitement. A fruit smoothie tastes like "Strawberry Banana Sherbet", while a spinach smoothie that incorporates mint and cacao tastes like "Mint Chip Ice Cream". References to cookie dough, cocktails, and pudding are aplenty on the smoothie page. In all, they succeed in makes eating healthy look and sound more appealing.
Products
Smoothies were Daily Harvest's first product, but the brand has since expanded its assortment to include Harvest Bowls, Soups, Bites, Oat Bowls, Chia Bowls, and Lattes.
In reviewing these products, you'll notice that the expansion is logical — pre-packaged, frozen meals made with fresh fruits and vegetables. You might also notice that the expansion marks the brand's attempt to gain more of your daily stomach share. With the current mix, a consumer could cover every meal, including snacks, with Daily Harvest products.
Brands that focus on self-improvement as a goal tend to use the New Wellness Lexicon to enforce the benefits and Daily Harvest is no different. On each product page, you'll see the meal's core benefits. The benefits themselves are aspirational, including things like "Beautifying", "Energizing", and "Cleansing". Below the fold, you'll find a deeper dive on the ingredients, with descriptions that go even deeper on the benefit of each individual ingredient.
But it's not smoke and mirrors — the products are made with ingredients that are actually good for you. Daily Harvest ensures every product is all-natural and plant-based. "We use nothing but real food, and never use additives, preservatives, or fillers." Which is great. But consumers should still read the fine print — smoothies range from 130–510 calories and can be higher depending on the sugar content of the smoothie.
Touting its ingredient-driven, consumer-first approach, Daily Harvest is encouraging subscribers to use its products in new and different ways. A current campaign, Daily Harvest Hacks, showcases a number of ways the smoothies, bowls, soups, and bites can be used as ingredients themselves. You can find how to make stovetop fritters with a Daily Harvest bowl or boozy popsicles with a Daily Harvest smoothie. The content is housed on the brand's website but is brought to life with the help of brand partners and influencers.
Social
Influencers are a key element to Daily Harvest's social presence.
Influencers can help a brand reach new audiences, but in the case of Daily Harvest, they also supply the brand with plenty of fresh content. In looking at Daily Harvest's Instagram posts, almost every image is from an influencer. They also repurpose influencer content for their paid social campaigns, making influencers just as much a part of content strategy as they are to a social strategy.
More than other brands in this space, Daily Harvest leans heavily into Pinterest and YouTube to round out their social presence. It's not hard to imagine why the company finds success on Pinterest. Simple, beautiful imagery centered on the aspirational goal of being healthy is a recipe for success.
On YouTube, like Instagram, you'll find Daily Harvest more focused on influencer content than its own. Daily Harvest employs an affiliate marketing program, working with influencers to create review videos that feature custom codes that offer their audience discounts. This strategy expands beyond social with blogs and publications alike working on an affiliate structure, providing not only reach but valuable SEO, too.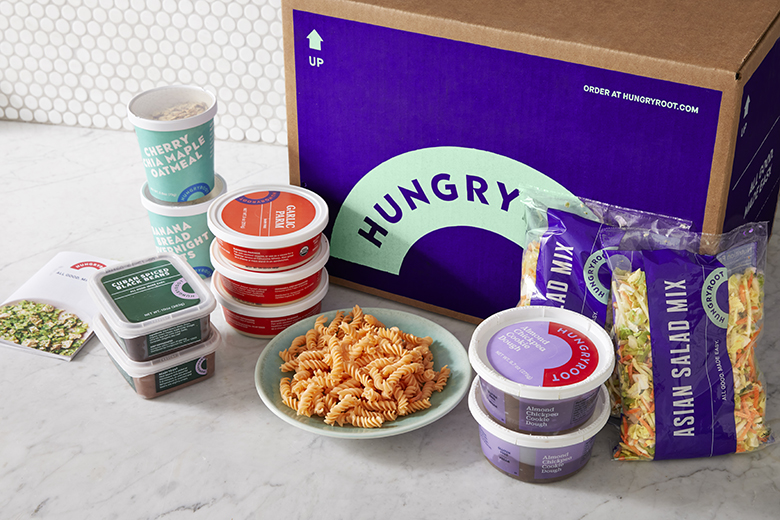 Competitors
While Daily Harvest is a standout in this space, they're certainly not alone.
Hungryroot is a growing upstart that aims to create a "modern way to shop for, cook, and love healthy food." By focusing on its quick-to-prepare foods, the versatility of the meals may appeal to consumers who are quickly bored with the same options. Partners like Banza and RightRice expand the brand's product offerings without requiring additional manufacturing complexities.
SplendidSpoon, another up-and-coming brand, is more of a direct competitor in its offering. SplendidSpoon's products are "vegan, gluten-free, GMO-free, ready to eat—and designed to change the way you think about food." Similar to Daily Harvest, the meals span smoothies, bowls, and soups that are ready to eat. But unlike Daily Harvest, SS's community is small—only 72.4K followers on Instagram compared to Daily Harvest's impressive 425K following.
Takeaway 
With a growing focus on healthy living, we're bound to see even more players in the subscription-based, ready-to-eat DTC space. With each offering a relatively similar experience to consumers, the differentiators will come down to the breadth of products to keep consumers engaged, the price of the products, and, as always, the power of brand and community.