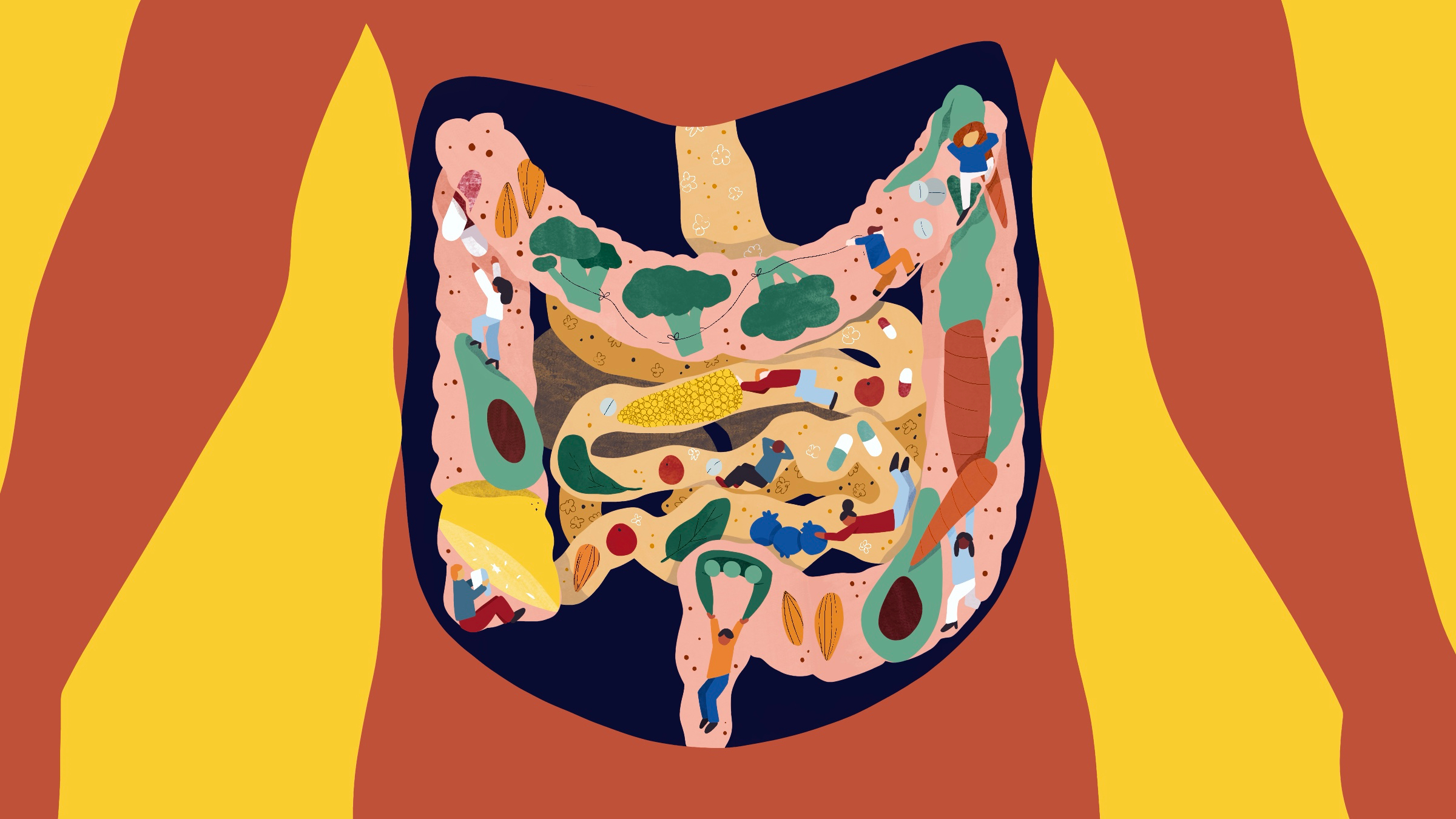 Courtney Powell
From identifying the ideal diet to treating chronic conditions and extending lifespan, the answers to complex health questions could be hidden in our gut.
On the Inside
Microbes, like bacteria, fungi, and viruses, are everywhere — including on and in the human body.
Collectively known as the gut microbiome, the gastrointestinal (GI) tract contains trillions of different microorganisms.
Distinct and evolving, each person's gut microbiome is unique. While humans share 99% of the same DNA, less than 30% of an individual's gut bacteria is related to another's. Plus, depending on factors like age, diet, stress, and illness, the microbial makeup changes.
Composed of good and bad bacteria, the microbiota ecosystem plays an important role in overall health.
Functioning properly, gut bacteria supply essential nutrients, produce vitamin K, protect against infection, and aid in digestion. But dysbiosis, or an imbalance of microorganisms, can cause a variety of health problems.
Scratching the Surface
The gut biome is linked to nearly every chronic disease, including depression, obesity, diabetes, and cancer. On the flipside, researchers are studying ties between the gut and athletic performance, sleep quality, mental health, and longevity.
While scientific evidence of microbes dates back to the 1600s, the concept of the human microbiome, and the rigorous study of it, is fairly new.
Seeking to better understand the role microbial flora plays in human health and disease, the Human Microbiome Project (HMP) launched in 2007. Over ten years and two phases, the HMP collected, sequenced, and catalogued genetic material of bacteria taken from nearly 250 healthy people.
"The microbiome represents the only organ that can be replaced without surgery. Just by eating differently, taking drugs, exercising and other things, you can have fairly immediate effects on your microbiome and your health, if we only knew how." – Jo Handelsman, director of the Wisconsin Institute for Discovery
Demonstrating the microbiome's impact on health, the HMP accelerated interest in the topic. In the years since, startups and investors have flocked to the space.
Starting & Scaling
From probiotics to precision medicine, US gut microbiome startups raised more than $1B in venture capital in the past five years.
The microbiome therapeutics market could reach $6B by 2023.
The global probiotics market is expected to surpass $77B by 2025.
The personalized medicine/testing market is projected to top $85B in 2024.
Seed Health. Initially, Seed sold probiotics. Now, armed with $40M in new funding, the company is accelerating its consumer health efforts while expanding into clinical research and novel therapeutics.
Fitbiomics. Spun out of Harvard, Fitbiomics develops performance-enhancing probiotics based on the microbiome of an elite athlete. Beyond bad bacteria, Fitbiomics decodes the biology of fit and healthy people, translating its findings into consumer products.
Viome. Mail-in stool testing startup Viome analyzes the microbiome, offering personalized nutrition recommendations and individualized supplements. Having raised $70M to date, Viome hopes to hit $100M in revenue next year.
ZOE. Further down the personalized nutrition path, ZOE raised $50M in funding for its at-home test looking at gut health, blood sugar, and blood lipids. Results are then used to develop a dietary program, where users log their meals and track their wellness score.
DayTwo. Along the lines of Viome and ZOE, DayTwo targets nutrition via the gut. But in this case, the company is specifically focused on metabolic health, diabetes, and obesity.
Elsewhere, personalized probiotic maker Sun Genomics ($11.6M in funding), Digbi Health's testing and coaching program ($14M), and behavior change app Cara Care ($9M) are going after gut health.
Red flags, two early-stage microbiome companies shut down in recent years.
After raising more than $100M in funding, stool sampling startup uBiome declared bankruptcy following an FBI raid in September of 2019. Once valued north of $600M, the company's co-founders now face fraud charges stemming from the collapse.
Earlier in 2019, Arivale abruptly shut down after raising more than $50M in capital. The company's at-home genetic, blood, and microbiome test kits proved difficult to scale.
One of One
When it comes to well-being, from diet and exercise to healthcare, personalization is the holy grail.
At one end of the spectrum, decoding the microbiome has led to breakthroughs in individualized medical therapies for C. difficile, colitis, and Crohn's disease. On the other end, direct-to-consumer companies hope the microbiome can help answer the trillion-dollar question: what's the best diet?
According to Scripps Research executive vice president Eric Topol, the microbiome is the key to unlocking personalized nutrition. But Topol, a cardiologist and professor of molecular medicine, goes a step further, writing:
"What we really need to do is pull in multiple types of data — activity, sleep, level of stress, medications, genome, microbiome and glucose — from multiple devices, like skin patches and smartwatches… In the next few years, you could have a virtual health coach that is deep learning about your relevant health metrics and providing you with customized dietary recommendations." 
Offering a different take, Timothy Caulfield, a professor of law at the University of Alberta and the research director of its Health Law Institute, tempered expectations, telling the NYT:
"If history tells us anything, it tells us that it's unlikely that this is going to revolutionize nutrition. The basic parameters of a healthy diet are already well known. The problem is not that the guidelines are wrong or insufficiently personalized, but that people are not following them." 
Looking Ahead
Microbiome research is nascent but accelerating. As more attention and funding flows to the category, expect to see more consumer-focused tests, apps, and supplements emerge. While the category gains traction, operators will have to contend with claims that the science isn't quite ready for prime time.